Browse our selection of freshly baked breads, cookies, pies, cakes, pastries and more! 
Decorated Cakes
8″ Double Cake (serves 8-10)
1/4 Sheet Cake (serves 15-20)
1/2 Sheet Cake (serves 30-35)
Full Sheet Cake (serves 60-70)
Call or stop in today to order! 
Bread Bears & Turtles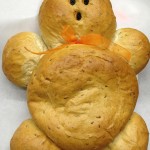 Order one of our famous freshly baked bread bears or turtles! Perfect for holidays, parties and showers! Includes a pint of Store Made Dill Dip.